Highlights for Illawarra kids.
Ryan 2 silvers and a bronze and shining under plenty of heats from the vics.
Tahlia 1 bronze and riding pb's in everything.
Tane had a great week and desperately tried to keep the tigers off Ryan in the points race.
Sarah not so green anymore, big pb's and a great kierin
Bronte fantastic scratch race and the best crash dodge ever as can be seen in the picture.
No idea how you got around that!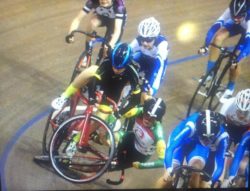 Thanks to Mick Kejda for guidance and NSW coaches Mich Marshall and Manager Simon Britton.
If there is any more photo's or info to add please email illawarracc@gmail.com