The Cycling Journey of Mr Alf OVERTON. 90 yrs. and still going strong. 
Our next story is about one of my old friends who I use to ride against when I started cycling in 1975. His name is; 
Alf Overton.  
As I've mentioned previously, I've had the chance to meet some amazing people in my time, but one who always stood out in my memory was Alf Overton. I met Alf through his son Kevin who raced in the cadets like I did. Well, the rest is history. So, this is the story of a Sydney lad who moved to Wollongong to chase his dream of being a cyclist. 
Alf Overton was born on the 14th February 1928, in Harbord near Manly New South Wales, Australia. He was the son Ruby and Albert and had two brothers and a sister. 
Alf started his working career as an apprentice fitter and turner at Frank Tranter Engineering in Wollongong, in 1943.  
'The house I lived in had no electricity, but I did have a horse called prince which I rode all the time'. 
So how did you get involved in cycling? 
I used to go the board track in Surry Hills when I was a kid and loved watching all the cyclists flying around the track. I thought I could go faster, so I decided to save for a bike and have a race. I've never stopped loving cycling since those days'.  
Have you had any serious accidents on the bike? 
I did crash once on the dirt track at Cootamundra. I got tangled up in the sprint with a couple of scratch riders. We were tough in those days racing on dirt tracks. We came around the final bend in the Cootamundra track open, the next thing I remember was rolling in the dirt with a broken collarbone.  
What made you move to Wollongong? 
I met Tom O'Connor at the board track in Sydney and we just hit it off. He was much older than me, but he was one of the fast guys. I thought he might be able to help me with my training, and eventually I was invited to move to Wollongong to be with Tom and his family. I never returned to Sydney. 
When I moved to Wollongong I lived in the rear of the bicycle shop with Tom O'Connor and his son Jimmy. We lived in the shop for at least 9 months until the family moved down from Paddington. We left the shop and moved to West Wollongong and then to Unanderra. That would be home for many years until I married Lynne.  
 Alf's wife Lynne, who I met many times when I stayed with the family, was such a kind and generous lady. Unfortunately, Lynne is in a nursing home after suffering a debilitating stroke.  
Alf's children are; 
Kevin, 59.  Winner of the Cootamundra classic in 1980. 
Jamie 47, and now a member of the Illawarra Cycle Club. 
Michael 46, who loves cycling also. 
Matthew & Andrew (twins) 44.  
What was your first bike? 
I had a 3-speed bike with the gears in the rear hub. Had so much trouble with those gears. And we had cotter pin cranks. Not like the bikes today. 
What was the training and diet in those days? 
The O'Connor family loved boiled eggs in the morning. I've had about a million boiled eggs whilst living at the O'Connor house. Tom use to tell me it was good for me and would make me go faster.   
When I saved up enough money, I bought a Morris minor to get to the races. During the week I put it up on jacks, so I wouldn't be tempted to drive instead of ride to work. I knew there were no short cuts to be a good bike rider.  
Did you ever see and hear anything about drugs in cycling? 
I can honestly tell you Terry, I never saw anyone take drugs in my days.  
After living in the bike shop and riding, were you ever tempted to start up your own business? 
I was Terry. I learnt how to build 531 frames from Tom at his shop in Figtree. I had other jobs before I started my own shop. I worked as a fitter and turner and later had my own bread run. This is where I met my wife Lynne.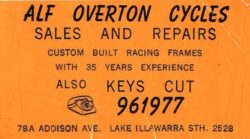 I opened my first shop in Addison Avenue, Lake Illawarra. I had a shop on the corner of Crown and Corrimal Street, and then opened a shop near Corbin Automotive in Keira Street for a time, and later opened up a shop on the corner of Stewart Street and Corrimal Street. It is now a Thai restaurant. It was at the Stewart and Corrimal Street shop that I was held up at gun point in 1988.  
So, what happened Alf? 
This young bloke walked into the shop and came face to face with me carrying a .22 calibre rifle. I couldn't believe it at first. It was in broad daylight. He had to be on drugs. The funny thing about this was that I was working out the back on some bikes and watching the Ray Martin morning show. They were talking about new gun laws. I heard someone in the shop, so I walked out and there he was. He was well dressed, clean cut and about 17 years of age.  
He threw a plastic bag on the counter and said, "Put the money in that". 
He stepped back from the counter, as I think he thought I might try and grab the gun off him. He knew I had money in my wallet, even though I told him I didn't' have much. I put about $140 in the bag and he walked out. The robber had been in the shop for some time talking about bikes and the Steelers' disappointing performance on Sunday. After the conversation the man left the shop and returned a couple of minutes later armed with a knife and rifle. They never caught him.  
So why did you leave Wollongong? 
Lynne wanted to be closer to family. We moved to Victoria, buying a house in Crib Point on the Mornington Peninsula. I went back to working as a fitter and turner at G B C Scientific in Dandenong South. In the mid 1990s we moved from Crib point and bought an old pub called the Charlie Napier in Inglewood. I worked as a chook hand for 10 years at Bridgewater-on-Loddon. I was getting close to 80 years old, and I was too young to retire. I loved my job. I used to control the conveyor belts carrying the eggs. If the belt broke I had to run 100 metres to the stop button, and I was the quickest in the shed. I then had to repair the belt and get the eggs rolling again. It was a simple job, but I worked with a great group of people. It was a shame I had to retire. 
In 2010, Alf returned to Figtree. After a couple of years, he then moved to Nowra where he resides with his son Jamie, and his family.  
How many frames do you think you made over all those years? 
I probably made close to 1000 handmade frames.  
What about the Unanderra velodrome, do you know how that all started? 
You would have to ask Jimmy O'Connor about that. It was his father Tom who started the velodrome. You know if it wasn't for Tom, the velodrome would never had happened. They should call it the 'Tom O'Connor velodrome'.  
Alf's record. 
Alf first competed in the Goulburn to Sydney in 1947.  'This is the race I've always wanted to win as a professional'. 
Alf won his 1st Goulburn to Sydney in 1967. Alf came across the finish line on his own to a rousing applause by the thousands of spectators that lined the streets to greet the cyclists. The race finished outside the Sydney GPO.  
Alf won his 2nd Goulburn to Sydney in 1978. 
Ken Dinnerville Memorial Classic. 1963. 1st place.  
Syd Parrish 1st place. 1965. 
New Zealand track open. 1st place. On a dirt track. 
Plus, many other races and records along the way. 
Although this is a story about Alf, it would be remiss of me if I didn't mention more about the O'Connor family. After all, it was them who took Alf in and gave him the opportunity to have a new life in Wollongong. 
Danny O'Connor's recollection of Alf. Danny is the son of Tom O'Connor. 
(Danny O'Connor won the world's richest track open in 1976. The Lavington wheel race. He won it wearing his dad's green jersey). 
I visited Dan and his family in Tamworth recently to get his take on Alf Overton. 
My first recollection of Alf was that he lived at our home at 35 Carr Parade Unanderra and used to drive me to school with my brother Jim when I attended St Therese West Wollongong. He, Jim and Tom O'Connor my father, moved to Wollongong in 1949 before the rest of the family, and they rented a shop in Keira St for some months working as bike mechanics before relocating to the Princes Highway near the present Figtree hotel. They lived and worked in this small building for approximately 2 years. Alf was a fitter and turner by trade and was then employed by Australian Fertilisers Pty Ltd and was acknowledged as an excellent tradesman. The rest of the family moved to West Wollongong in 1952 and shortly afterwards to Unanderra, and Alf lived with the O'Connor family until 1968. 
Alf also worked for some years on a bread delivery run, whilst I worked on several school holidays helping Alf with the run. He was extremely fit and worked flat out as I remember vividly. Once Alf left our home and married Lynne he worked as a fitter and turner at Stewart & Lloyd's Kembla Grange. 
Alf taught me a lot about racing, and he was like a big brother to me. I actually thought he was my brother when I was growing up. I always rode Alf Overton bikes, and I won the Lavington on his bike. It was a great honour to have grown up with Alf. To meet Alf at the Dinnerville this year with Luke my son, was just incredible.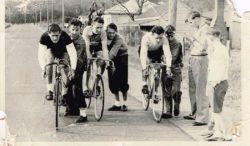 The picture above shows Robertson, John Graham, Alf Overton, far right (held by Jim O'Connor) at the start of a club race from Figtree to Oak Flats and return. They are the scratch riders. Alf was an accomplished ed track rider and was a great lead out specialist.  
The following photo shows Alf in 2nd position at the bell lap in a heat of the half-mile handicap at McCabe Park circa 1958 (top photo).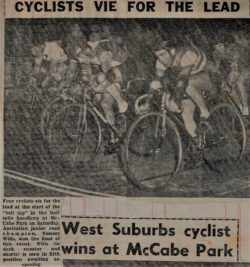 Storey by
Terry Wall