ICC riders stand tall at the Australian Titles in Ballarat 2020.
It was a great 4 days of racing watching our club members in the Time Trial, Team Time Trial, Criteriums and Road Races during the week.
Our club was well represented by Tahlia Dole, Chloe Heffernan, Jarrod Williams, Luke Britten, Terry Wall, Phil Jones, Phil Parle, Mark Morgan, John Webster, Ryan & Simon Britten in the Gran Fondo road race.
Our race reports from 2 of our cyclists are as follows;
Tahlia Dole, U/19 Australian Criterium Bronze Medalist.
On the morning of the crit the weather was pretty good, warm in fact, but that all changed just before we started. Within minutes before we had to start, the rain and wind hit the streets of Ballarat and the temperature dropped to about 10 degrees. In the first half of the race I tried to position myself towards the front of the race at the bottom corner on each lap, and after a couple of breaks from single riders, I managed to get into a breakaway with 5 riders. With the rain pouring down, the strong winds caught the safety barriers and threw them across the road bringing down a couple of riders. Luckily, I skipped through without being hit.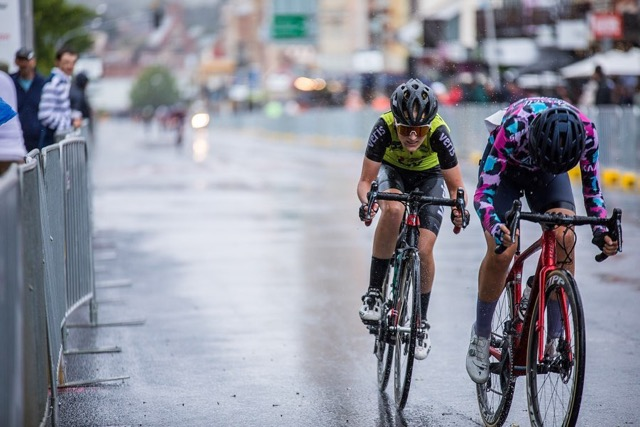 The race was stopped for 20 minutes while they took down all the sponsor sails on the course, and when we started again the 5 breakaway riders were given their gap, and within half a lap it was down to 3 of us. The last few laps were nerve racking as we tried to maintain our gap whilst attacking riders were trying to bridge to us. It was really hard conditions to race in, and tough going trying to stay upright and not go sliding down the road as we were smashed with the wind and rain. It was almost a sense of relief to cross the finish line and I was stoked to get the bronze medal, as I have had run of 4th places in national events in the last couple of years.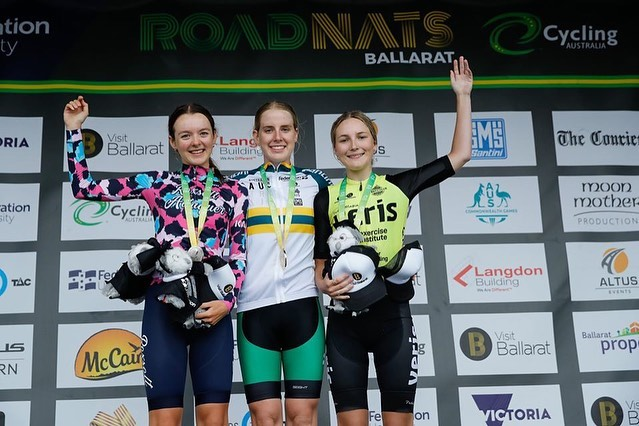 Report from Phil Jones. (Terry Wall, Phil Parle, Mark Morgan) Masters 180+ Team.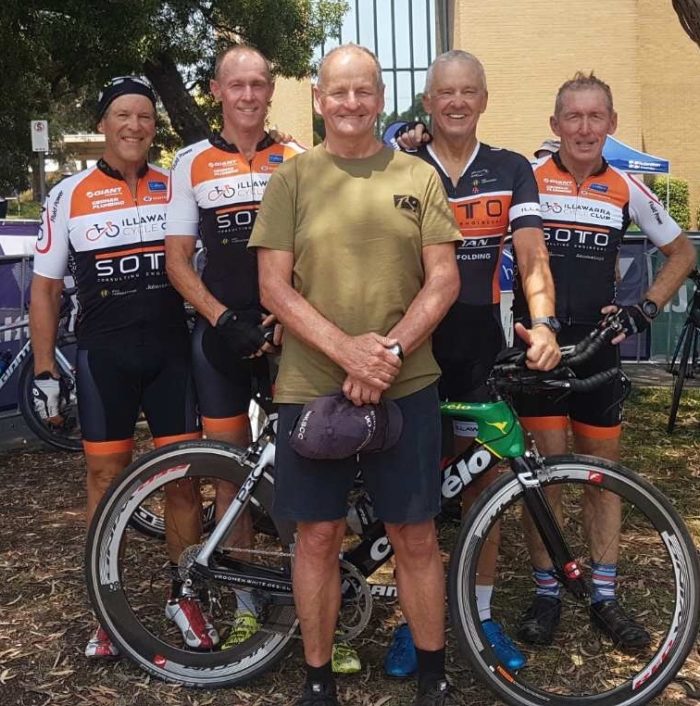 Australian Team Time Trial. 2nd place.
Australian Team Criterium. 1st place.
Australian Gran Fondo Team. Results not confirmed.
From my perspective, the training that we went through with Mick Kejda not only prepared us physically but also mentally. The sessions he put us through on the Ergo, Keira and especially the Motor Pacing gave me a better Phycological understanding of how much more I could push myself. Not only has my fitness improved on the bike by 200%, but also my understanding of when I think I'm hurting I can go harder.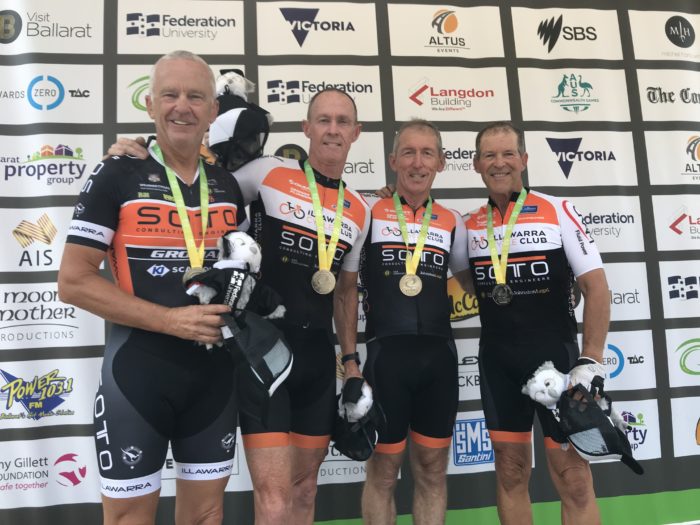 The training program and training with the team gave me back what I had been missing for many years, enjoyment in riding and racing. For many years I have just been going through the motions with no real direction. Perhaps they could be classed as junk miles.
The pinnacle for me at Ballarat was the Team Time Trial, we really went all out this time round, and I don't think we could have gone any harder. Not only have I enjoyed training with Terry, Mark and Phil, I thoroughly enjoyed the week at Ballarat, and watching all our club riders representing the Illawarra cycle club with such professionalism. Standing on the podium putting on the green and gold jersey for winning the team section of the criterium is something I will remember for a very long time. Just an amazing feeling.
To come home with a Silver and a Gold has exceeded my expectations.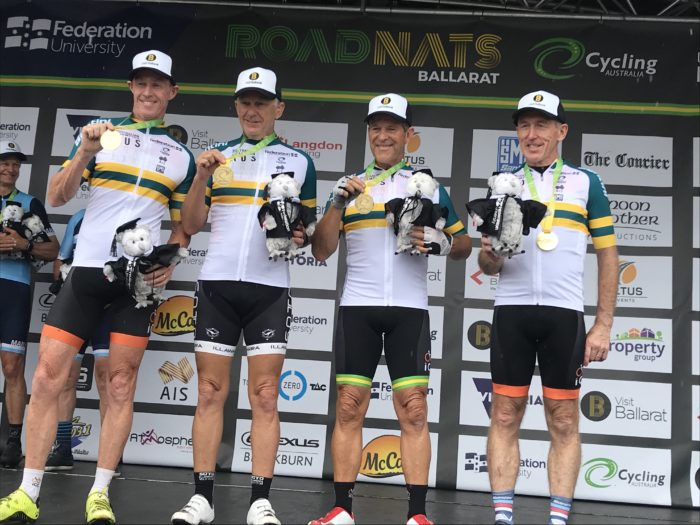 One of the standout performances was that of John Webster in the 70-74 section of the Gran Fondo. John had been training very hard for a couple of months prior to the Ballarat and was very determined to do well. John came in 7th place in the Australian Road Race Titles.
Luke Britten and Jarrod Williams rode both U/23 criterium and road races at the Australian Titles. As Tahlia had mentioned in her race report, the weather was horrendous for all riders. It was cold, wet and miserable just being a spectator. I got to watch both young men flying around the course, with some of the most talented U/23 riders in the country. They both rode fantastic in the criterium. Jarrod finished on the same lap as the winner just off the lead pack. And Chloe did an amazing job in all her races. Chloe had to content with many professional European riders, and still gave it everything in every race
To all our riders who travelled to Ballarat, you represented our club, your coaches, and sponsors with total class. Our club is strong, and our young riders showed that we have a strong future in the Illawarra.
Safe riding
Terry Wall