Team Illawarra Cycle Club – NSW Masters Track Championships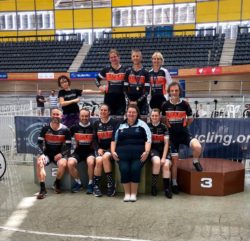 Over the course of four days the following riders represented ICC with great success!
– James Robinson, David Deitz, Catt Hooton, Sue Cole, Kym Masterson, Dominique Rideaux, Alex Hooton, Renee Covington, Neil Arnold, Deb Coulls, Gary Mandy, Adrian McMillan, Neil Leifels, Heidi Montgomery with Marcus Arnold assisting. A great attendance by our Club!
Results;
Deb Coulls
gold medal for the WMAS6 Time Trial
silver medal WMAS 3-6 points race. 
gold medals for the WMAS 6 individual pursuit and the WMAS6 plus scratch race.
David Deitz – MMAS4
Team sprint – Silver
MM4 – Points race – Silver
– TT Bronze
– Sprint Bronze
Neil Arnold – MM6 scratch – Gold
– Points race – Bronze
Heidi Montgomery – IP – 3rd
Catt Hooton- WMAS4 Sprint– Silver
– ITT – Gold
James Robinson – MMAS3 Sprint Bronze
Dominique RIDEAUX – MMAS6 Sprint Bronze
Garry Mandy – ITT – Gold
– IP – Gold
–