I asked Deb when She got back from Worlds if She could give us (ICC) some detail into what it is like to race at the Worlds and what Deb has given me is an amazing incite to what She has experienced,  Thanks again Deb on sharing this with us
Rod Child
My LA experience – 2017 UCI Masters World Track Cycling Championships
Thu 05 Oct
My LA track experience began with my first training session at the Velo Sports Centre.  My first view of the velodrome was from spectator level.  It was three days before the start of competition and already the velodrome was buzzing with energy. The previous training session was in full swing with about 25 riders on the track and about double that infield.  The track made of pale Siberian pine looked smooth, well cared for and inviting. The roof was colourfully festooned with international flags and the infield was already set out with pens, many of which were already claimed. I felt a twinge of pre race nerves mixed with excitement and my legs tingled with taper anticipation to get on the boards as quickly as possible.
Group training sessions at world masters events aren't for the faint hearted.  Around 25 riders are normally strung out over the track all doing their own thing without any communication or announced plan.  Timing an effort to claim the black line requires patience, skill and luck.  No one can afford the strain on their legs to repeat a failed effort attempt so close to competition and certainly no-one can afford a fall or collision!  I minimise the risk of the latter by warming up on rollers and staying on the track only long enough to do the assigned efforts.
The Velo Centre has noticeably steeper banking than Dunc Gray (45 degrees instead of 42 degrees) and has sharper corners and much longer straights.  The purpose of my first training session was to find the perfect flying 200m line and to practise the best line in and out of the corners using double discs.  I was relieved to find that whilst the track was steeper, my tyres happily stuck to the surface.
At the end of the session I made a point of claiming our pit with our Aussie flags and chaining up rollers and folding chairs to our pit fencing.  I always carry two or three Aussie flags and two locks to World Masters events for this purpose.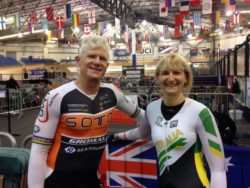 Mon 09 Oct
I approached the WMAS5 individual pursuit with low expectations, as I knew my PB was well off world best time pace.  The purpose of entering the event was to get rid of pre-race nerves, do a gate start, observe other riders as competition for scratch and points races and in Gary's words, "have fun".   However, anyone who does individual pursuits will know they are no fun at all!  So I dug deep and surprised myself by achieving the third fastest qualifying time in 2:41.327.  Whilst this was 1.5 sec off my PB, other riders found that they were up to 6 seconds off their PBs.  It was at this point when the Australian camp declared the track to be 'slow'.   Those who rode large gears suffered and many claimed it was like riding in thick soup.  The Velo Centre claims to be heated to 22C and kept at 50% humidity.  Manchester velodrome which is considered a fast track, is kept at 27C.  Unfortunately in the final for bronze my legs were too tired and I dug holes in the last three laps and came 4th.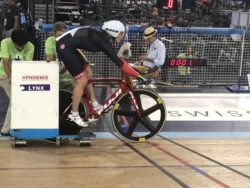 Tue 10 Oct
I teamed up with Laurealea Moss (QLD) and Rebecca Wheadon (WA) for the WMAS35-54 Team Pursuit.  Moss was one of the few riders to achieve a world's best time in the WMSA3 individual pursuit the day before in a super quick time of 2:29.875 and Wheadon is a renown WMSA4 track sprinter who easily does a 21 sec standing start lap.  Team pursuits are timed on the third rider to cross the finish line and at world masters, women start with three riders.  Our race plan was for Wheadon to start and do the first lap, Moss to do the rest and for me to simply hang on!   Having not raced at all together we were very happy to qualify second fastest of 10 teams in 2:31.522 and improve our time to an Australian best time of 2:30.574 in the final to claim silver.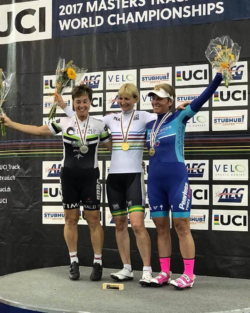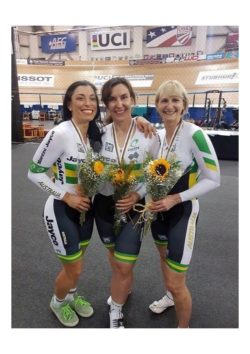 Wed 11 Oct
Most of my LA preparation was for the scratch and points races so I was ecstatic to win the rainbow jersey in WMAS5 scratch race.  Our race was combined with the younger WMAS4 category and a fast pace was on from the start.  I had done my homework best I could and knew the riders to watch in my age category.  There were a number of breakaway attacks by single riders from my category throughout the race however I was confident that these were made too early so stayed in the pack to conserve energy until two laps to go.  At this point WMAS4 New Zealander, Erin Cringlington ,made a good hard attack and I was able to jump on her wheel and be towed to the line to win gold in WMAS5.   It was an awesome feeling to stand on the podium wearing a rainbow jersey with the Australian National Anthem playing especially after three years of either coming second or third in this event.
Thu 12 Oct
The time trail was another 'fun' event for me so I was very happy to win a bronze medal.
Sat 14 Oct
This was a big day for me as I had sprint qualifying and quarter finals in the morning and the second of my important races, the points race, in the evening.  Noting the slowness of the track, I bumped my gear down 4 inches for the flying 200m and I qualified 4th . Unfortunately in my first quarterfinal heat I was taken completely off guard by my opponent coming around me squarely on the duck board.  Whilst she was warned that this was an illegal manoeuvre she was not relegated.  It took me two more heats to beat her and secure my place in the semi finals which were to be ran the next day.
After completing an extra sprint due to the 'duck board side manoeuvre', I was concerned about how my legs would back up for the points race.  However I managed to go home for a bite to eat and a quick rest in preparation.  On return to the track, race organisers announced that they had changed their plan and would be running our age category separately making it easier for them to work out collection of points.  My race plan was to score points early, then conserve some energy to try to win double points at the end of the race.  I lead the race all the way winning the first and third sprints and placing second in second sprint.  I was narrowly pipped on the line for the double point last sprint but had earned enough points overall to win the race convincingly at 19 points to 13 points second place.   To win rainbow jerseys in both my signature races was a dream come true.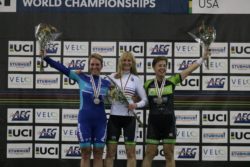 Sun 15 Oct
My opponent for the sprint semi-finals was none other than fellow Aussie and friend Sally McKenna.  I knew I didn't have the speed to beat her so my only hope was to force a mistake.  I decide to have fun and play cat and mouse on the banking but predictably lost in two straight heats.  This placed me in the final for bronze against Philadelphia first lady, Lisa Nutter.  Lisa is an experienced sprinter and she beat me convincingly in the first heat.  However it was obvious that she was tiring. I then narrowly beat her in the second heat and then went out long and won the third heat convincingly to win bronze.
Other important points
Whilst I have concentrated on the racing, the experience of competing at a world masters track cycling championship event is so much more.  It's an opportunity to catch up with old friends and meet new ones, to share in their successes and to be a part of the Aussie team and cheer other riders on and to have fun.  Words of encouragement from the home-front from our families, training partners and other riders in the Illawarra Cycle Club and beyond is also a vital part of the experience.  I would like to thank the members of the ICC for their continued support for my racing and the opportunity to train on the track year round in motor-paced points – thanks Mick.  I also wish to say a huge thankyou to my family who give me the freedom to pursue my goals and to Club Coach (and my personal coach), Gary Mandy who runs Tuesday night training like clockwork and who believes in me and has got me this far.
by Deb Coulls